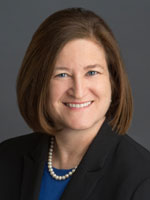 Dr. Kelly J. Clark
Founder, Addiction Crisis Solutions (ACS)
President, American Society of Addiction Medicine
Medical Expert Consultant: Dr. Kelly Clark, PLLC
Board certified in both addiction medicine and psychiatry, Kelly J. Clark, MD, MBA, DFAPA, DFASAM is the Founder of Addiction Crisis Solutions, a company focused in educating all stakeholder groups in the service of transforming addiction care into evidence-based, cost-effective practice. Dr. Clark also serves as President of the American Society of Addiction Medicine, representing over 5,300 addiction physician specialists and allied health professionals. She has provided expertise about the opioid crisis to the US Presidential Opioid Commission, FDA, SAMHSA, the Office of Comptroller General; the Pew Trusts, National Safety Council, and National Business Group on Health; as well as numerous provider and payer organizations.
A sought-after national speaker on addiction, Dr. Clark's expertise in health care delivery systems, financing, and quality stand upon her vast breadth of clinical work including emergency, acute, sub-acute, and chronic institutions; community, county, state, federal sites; voluntary, involuntary, criminal justice and correctional settings. She served as faculty of the University of Massachusetts Medical School for eight years training students and resident physicians on the inpatient dual diagnosis unit as well as in outpatient, partial hospital, and consultative settings. She was founding faculty at the VTC Carilion School of Medicine, and she continues her work as a founding member of the National Rx Drug Abuse and Heroin Summit Advisory Board.
In addition, Kelly has been Chief Medical Officer of two private equity backed companies and a medical director at a health plan, a pharmacy benefit management company, and a pharmaceutical company. She brings this unique background to addressing the needs of the range of stakeholder groups through ACS.
With active medical licenses in 11 states, in her practice of forensics Dr. Clark has been recognized as an expert witness in multiple states. She has provided opinions in civil and criminal cases, to both plaintiffs and defendants, in cases regarding competency, wrongful death, malpractice, and healthcare fraud.
Education
Master of Business Administration with Additional Certification in Health Sector Management, the Fuqua School of Business at Duke University. Board Certified in Psychiatry by American Board of Psychiatry and Neurology, and Board Certified in Addiction Medicine by American Board of Preventative Medicine. Doctor of Medicine, the University of Wisconsin. Bachelor of Arts, Phi Beta Kappa, Coe College.